Nottingham In Focus April 2014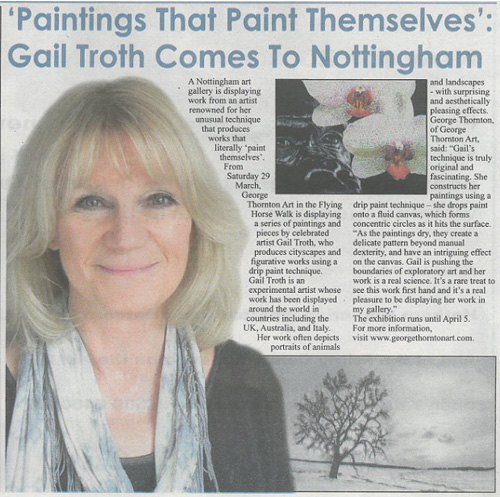 The Birmingham Open
Dr Andy Pryke - Birmingham University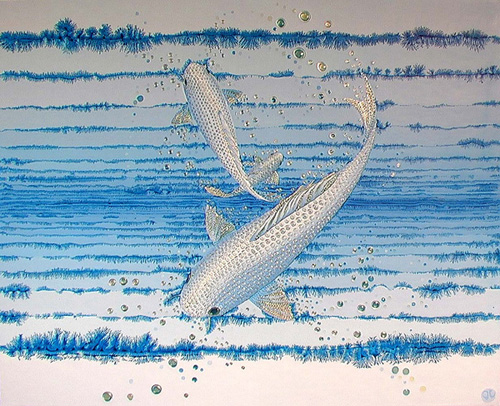 "Over a hundred works of the highest standard by contemporary local artists, and I'm not talking watercolour landscapes or pictures of cats! This really does show how vibrant the arts community in Birmingham is. Most of the work is 2D (pictures, paintings, ink and pencil drawings), with some sculpture and video. It really is too much to take in all at once, so worth multiple visits. One piece which I spent a lot of time observing was Gail Troth's painting of fish, constructed using her unique and painstaking technique."
Visual at City Inn Westminster
Matthew Price - Saatchi Online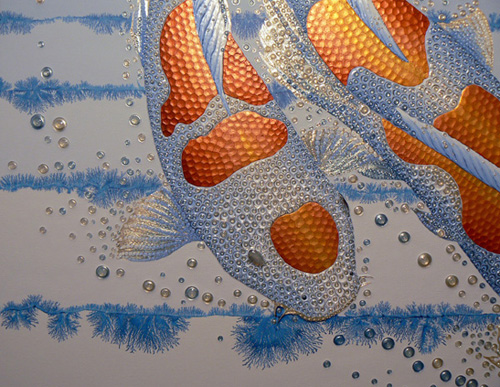 "Gail Troth's 'Feedback' is the highlight of the paintings presented in the show, featuring a number of exotic fish composed with forthrightness, elegance and more than a tinge of Chinoiserie. The strong decorative qualities are matched both by Troth's passion for zoology and animal genetics and her remarkable trademark technique of applying paint in droplets with an accuracy, skill and sheer painterly magic that has to be witnessed in person. It must surely only be a matter of time before she's snapped up by an international gallery."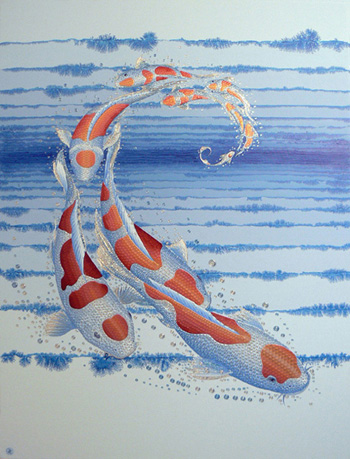 Sense and Sensuality at Bankside London
Peter White - The Times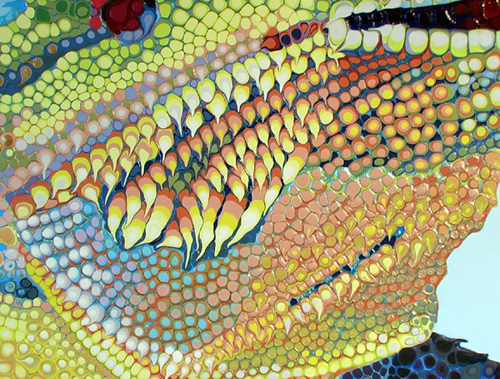 "This is not how people see a work of art; they can take in the whole of it at a glance. I feel I want the same. Perhaps this is a failing in me. Many totally blind people assure me that they can get an enormous amount from this kind of experience, both examining and creating it.
This isn't to say there were no almost pure touch experiences that I did enjoy. Gail Troth's Symbol L, for example, is the depiction of a lizard crawling into the picture, its bright colours being contrasted by dots with the smooth background."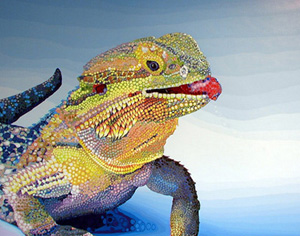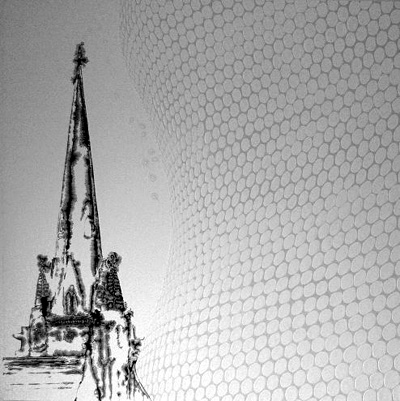 BCCI Annual Banquet
Birmingham Mail - Ink Print Is Going For Art's Sake
An ink print showing the new Bullring in all its glory helped raise 620 pounds for charity at Birmingham's biggest business dinner of the year.
The print by local artist Gail Troth, which depicts the shopping centre, St Martin's Church and Selfridges, was one of the lots in a charity auction at the recent Birmingham Chamber of Commerce and Industry annual banquet.
The winning bidder for the artwork was Birmingham Mail editor Steve Dyson, who was presented with the print by Terence McDermott, director of the Art Lounge at the Mailbox, Birmingham.
Ben Parry, corporate partnership fundraiser for Sense, charity for the deaf and blind, said: "A total of pounds 8,890 was raised on the night, which was amazing "
Strange Attractor at St Pauls Gallery
John Cornall - The Birmingham Post
"Gail Troth is a recent mature graduate of Birmingham but to all appearances she is a far more accomplished and polished artist than this might imply. Her paintings, if they can be called paintings at all, resemble magnified marine flora or fauna in chequer-board style, studies from Bridget Riley gone organic."
Golley Slater Award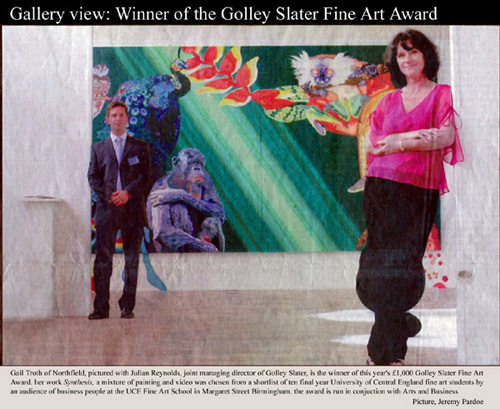 Post People - The Birmingham Post
Following a nail-biting event, Birmingham advertising and public relations agency Golley Slater, is pleased to announce Gail Troth as the winner of its 2003 Fine Art Award.
"More than 200 guests gathered at the Fine Art Faculty of the University of Central England for the prestigious event, which saw Gail scoop the title for her vivid, textured paintings, which were created using drops of wet paint on already wet paint.
In its second year, the Golley Slater Fine Art Awards, run in conjunction with Arts & Business has an innovative twist -with guests selecting the winner from a shortlist of Department of Fine Art students -with the outcome not known until literally minutes before the presentation.
Gail, who is a student of the University from Northfield, impressed guests with her painted work, Synthesis -a multi-painting installation showing a progression of states that mirror evolution"
St Pauls Gallery
Static
Another gallery that has emerged from urban regeneration, the growth in civic economic prosperity and the city living lifestyle is St Paul's Gallery. Opened at the beginning of 2003, it is heralded as the largest commercial gallery space outside London. Based in a purposely-renovated factory in the Jewellery Quarter, the gallery sells old masters, modern masters and work by established contemporary artists (e.g Michael Craig-Martin, Julian Opie, Jason Brooks). One of the rooms is devoted purely to contemporary art, and feels like a more formally curated space than a mixed showcase. A large proportion of their stock is in limited edition prints, etchings and engravings, though a number of select originals are distributed around the spaces. The gallery has strong connections with several galleries and dealerships in London, and along with their considerable managerial and PR experience, the prices the work they exhibit can command range from £1000 to £20,000.
With a few months of business now under their belts, the gallery has just signed up the first artist that they will officially represent, an artist from Birmingham called Gail Troth. Having worked in jewellery design, commercial art and run her own business for a number of years, Troth enrolled with BIAD to pursue her interest in Fine Art and has recently graduated with 1st class Hons. Her current works on a zoological theme are quite remarkable, and if she has a body of work that lives up to these then her career prospects are very promising. St Paul's Gallery spotted her work at the degree shows and having featured some pieces in their current group show, will present a solo exhibition of her work in November of this year. What is particularly interesting about the gallery's approach was their decision to include some of her works in a group show alongside very established figures from the national and international art circuits. Even more interestingly, her works did not seem out of place.